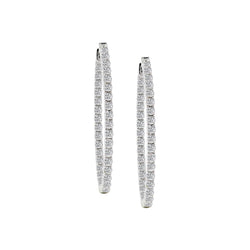 Anuket Giant Hoop Diamond Earrings in White Gold
Every facet of these large hoop earrings glistens and shimmers with the unparalleled sparkle of high-quality diamonds, making a bold statement with each sway and turn. With a size that commands attention, these hoops effortlessly frame your face, enhancing your natural beauty and allure.
Elevate your style, captivate every gaze, and indulge in the luxury you deserve with these exquisite large hoop earrings. Immerse yourself in the world of opulence, where every detail, every diamond, and every facet is a testament to your unique taste and unwavering commitment to timeless beauty.
Approximately 4.10 carats of Diamonds.
Please note that carat weight are only estimates, and that each product is unique and has a slightly different carat weight. All Diamonds are G-H in colour and VS/Si in clarity.
Item shown in 18 karat white gold.